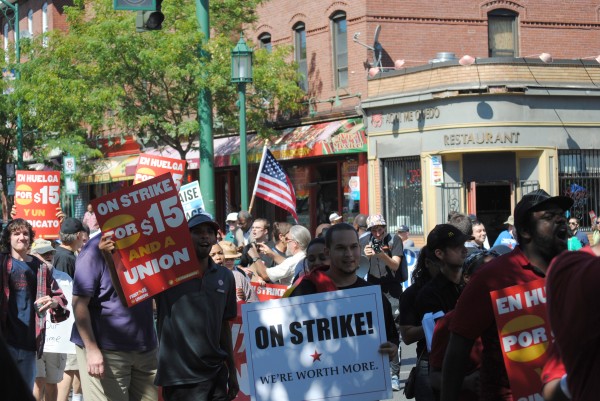 The Fight for $15, a nationwide, grassroots effort to raise the minimum wage from the point where full time workers struggle in abject poverty to a level where they can actually, you know, live a somewhat decent life, has been gaining momentum and scoring small victories. One of the biggest wins was in Seattle, Washington, where a citywide ordinance has been passed that will gradually raise the minimum wage to $15 by 2017.
At the same time, the Fight for $15 has also experienced some serious setbacks. Here in Rhode Island, a conservative General Assembly under the leadership of House Speaker Nicholas Mattiello included a passage in Rhode Island's 2014 budget that restricted the ability to raise the minimum wage to the state. Providence was on the cusp of passing legislation that would have raised the minimum wage for hotel workers to $15, so the right wing Democrats decided to cut that effort off at the knees in a sickening display of political scumbaggery, passing the legislation in a way that prevented any kind of robust public debate.
The idea of states taking control of minimum wage ordinances from cities and municipalities is on the rise. Oklahoma passed a measure similar to Rhode Island's, and now Washington State is seeing the beginnings of a nascent movement to do the same. The one sure victory in the Fight for $15 is now under threat.
The plan is to "
pass a statewide initiative next fall that would pre-empt local minimum wage laws and instead require a uniform statewide minimum wage
." Petition drives in Seattle are in full swing, and at least one Seattle area anti-tax zealot, Tim Eyman, has managed
to collect $100,000 to fund his efforts
.
The conservative
Seattle Times
seems enthusiastic about the prospects of defeating the plan on a state level.
Editor Erik Smith writes
,
Not that anyone thought the fight was over. But Tim Eyman seems to have hit on an idea that takes the issue to an entirely different battlefield, the statewide ballot, where it might more easily be defeated.
Kshama Sawant, the elected socialist Seattle city councilperson who helped get the $15 minimum wage passed, was vocal about not wanting the new minimum wage phased in over time, but accepted the compromise to get the bill passed. Sawant took some flak from both the left and the right over her insistence that the minimum wage law be implemented immediately.
"Every year of phase-in is another year that a worker has to live in poverty."



It now appears that the delay in implementing the increase has opened the new minimum wage ordinance to an attack from the right.