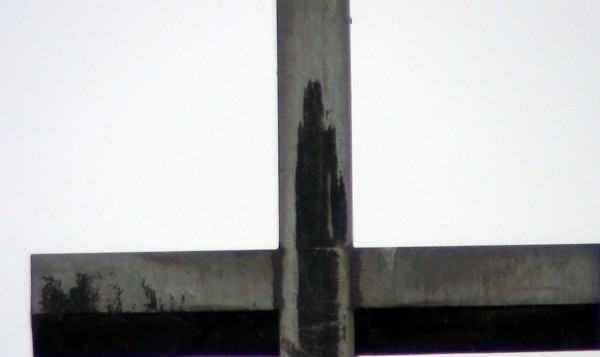 Mary?
It's been one year since an image that many believe to be Mary, the mother of Jesus, appeared on a cross that tops the Church of the Presentation of the Blessed Virgin Mary in the City of North Providence, Rhode Island. I
covered this story at the time
, concluding that the image was actually a stain, and up close the image didn't look like much of anything. This didn't stop John DePetro, a local radio idiot from spending three hours of his show coaching listeners as to what exactly they should be seeing.
According to
The Valley Breeze
, a local paper, the image has had a lasting impact on the church, according to the Rev. Edward Cardente.
Cardente, who serves as pastor of Presentation Church and St. Anthony Church in North Providence, as well as St. Edward Church in Providence, said that many parishioners at St. Anthony ended up transferring just up the road to the Presentation Church after the events a year ago. Presentation Church didn't see a "big surge in attendance" from the outside after the sighting, he said, but did see a bump from parishioners switching churches "out of curiosity."

Since Cardente conducts Masses at all three churches, and all three are under the same leadership umbrella, he said the exodus from St. Anthony wasn't seen as a negative thing.
I guess the "lasting impact" is that a few people attend mass in a different church now. I'll say now what I said then:

"And so it is with all miracles. The closer you look, the less impressive they are."