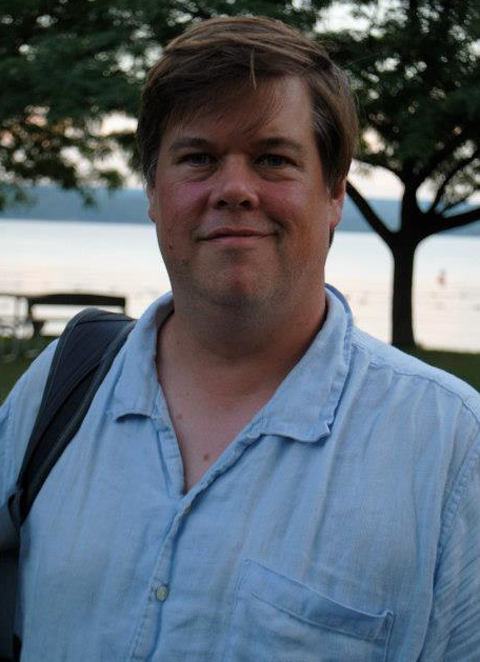 A few months ago, a Rhode Island teenager named Jessica Ahlquist took a trip to the Playboy Mansion. No, she wasn't some bikini-clad centerfold recruit flown in for a photo shoot; she was there to receive a Hugh M. Hefner First Amendment Award for her vocal opposition to a "school prayer" banner hanging in Cranston West High School that began with the words "Our Heavenly Father" and ended with "Amen." With the help of a lawsuit filed by the ACLU, the banner was ultimately taken down, but not before Ahlquist received death and rape threats and a description as an "evil little thing" by her own state representative.
If the name "Ahlquist" already triggers thoughts of an outspoken defender of church/state separation, then perhaps you're familiar with Jessica's uncle, Steve Ahlquist: president of the Humanists of Rhode Island, and a tireless advocate for reason-driven government and other progressive causes on the blog Rhode Island's Future and his site cautionchurchahead.com. (Ahlquist, in fact, has aimed his criticism at me, calling my 2012 profile of newly-named Rhode Island historian laureate, Pat Conley — whom Ahlquist accused of "hypocrisy and intellectual dishonesty" in his writings on the role of religion in government — a "puff piece.")
While Ahlquist — Steve, that is — is a familiar face to those who make frequent trips to state house legislative sessions and various political rallies, he will perhaps draw a new audience this weekend when he delivers remarks at Providence's First Unitarian Church on Sunday morning. We spoke with him via email in advance of this speech. Our conversation has been edited and condensed.
YOU'RE SPEAKING ON A SUNDAY MORNING IN A CHURCH. THIS SOUNDS AN AWFUL LOT LIKE A SERMON. IS IT? WHAT WILL YOU BE TALKING ABOUT? I think the irony of an atheist speaking in a church on a Sunday morning works on a sliding scale. If I were speaking in a fundamentalist church of some kind, the irony would be over my head, and in an Episcopalian church the irony would be about waist deep, but by the time you get to the Unitarian Universalists I'm just stepping into a puddle of irony.
That said, I take great pains to differentiate between my secular, non-religious Humanism and the varieties of religious humanism one might find in UU and Congregational churches. I try my best to be guided by reason, not faith. The Humanists of Rhode Island is not a faith community, we are a group of people united around a common set of core Humanistic and atheistic principles.
I've also been told that at UU meeting houses ministers give sermons and laypeople give talks. I'll be talking, then, about secular responses to issues surrounding LGBTQ rights and women's reproductive freedom. The Humanistic response to these issues bucks up directly against fundamentalist Evangelical and Catholic views on these subjects, but I'm of the opinion that voicing strong moral positions is not an exclusively religious undertaking.
I'm trying to speak with moral authority on a wide range of issues without any reliance on God, and the first thing I have to convince people of is that such a thing is even possible.